How to be excited about a goal, and the Mustangs' streak grows to five straight
Updated: September 29, 2017
Kaba Alkebulan scored his second goal in as many games on Thursday night at Alex G. Spanos Stadium, as Cal Poly found two late goals to get past UC Riverside 3-1 in their conference opener.
Kaba's goal was a nice one. He chested down a long pass, didn't take any additional touches with his feet, and rolled home a ball into the far corner of the goal to give the Mustangs a 1-0 lead.
That Kaba goal from tonight. Not sure how it curled in, but it did. 'Stangs beat UCR 3-1 to take 3 points in their first conference match. @BigWestMSOC pic.twitter.com/gNQrZ2kUQx

— fansmanship (@fansmanship) September 29, 2017
Then he did this.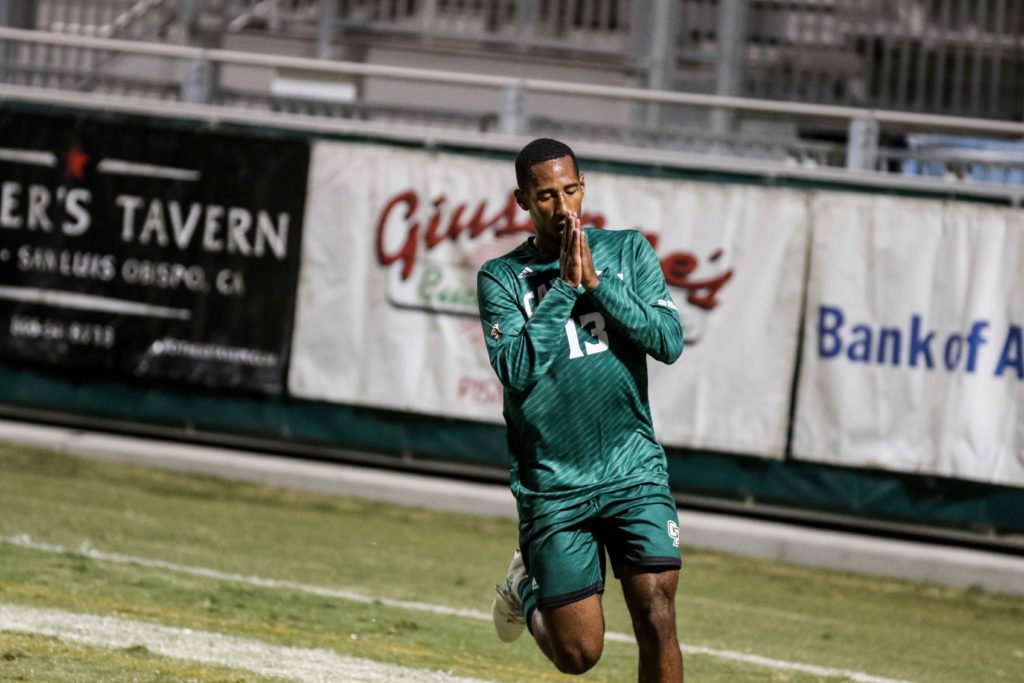 Then this.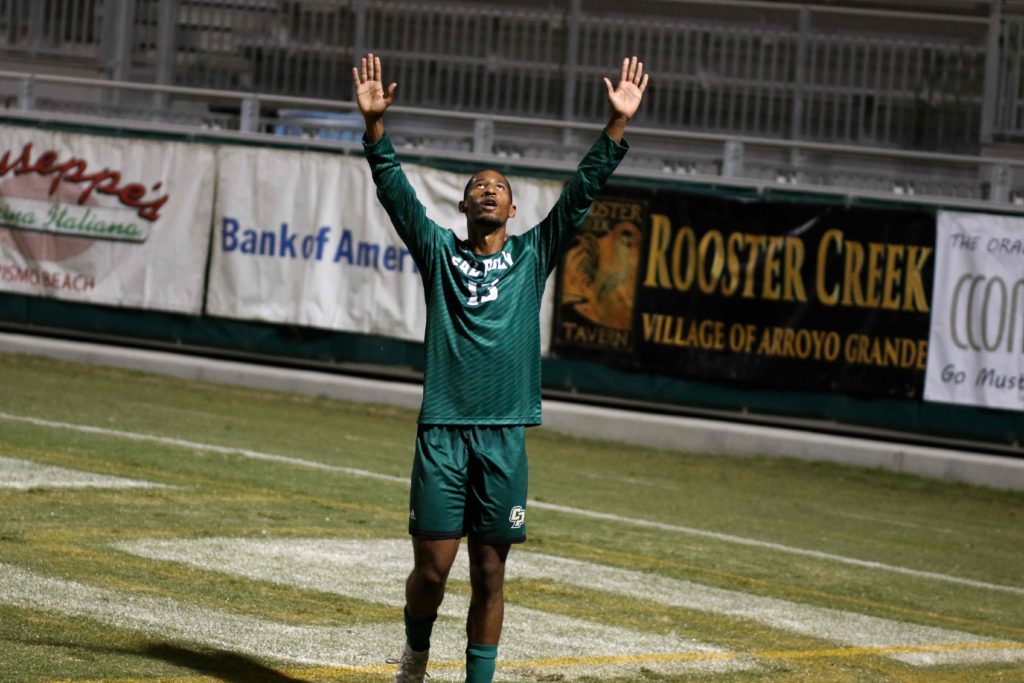 Then this.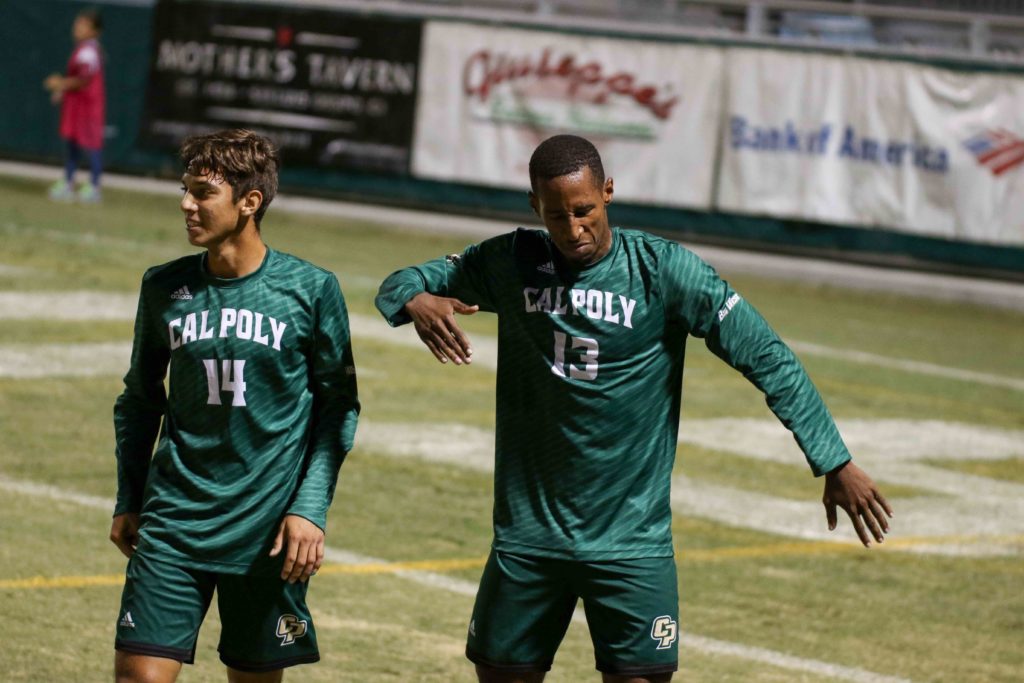 Then this.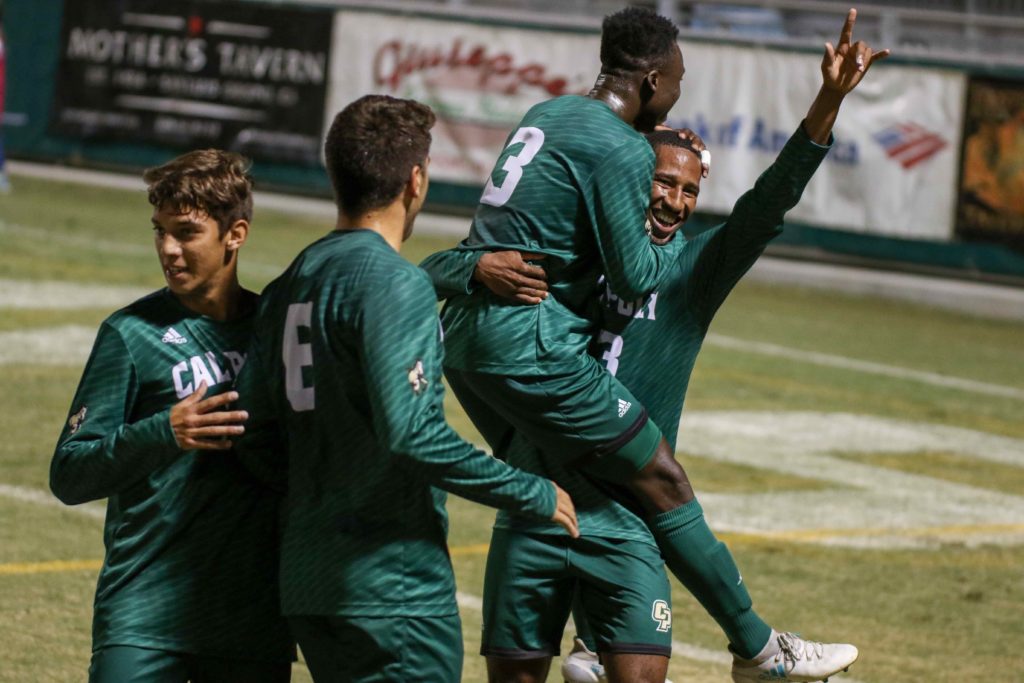 Finally, this.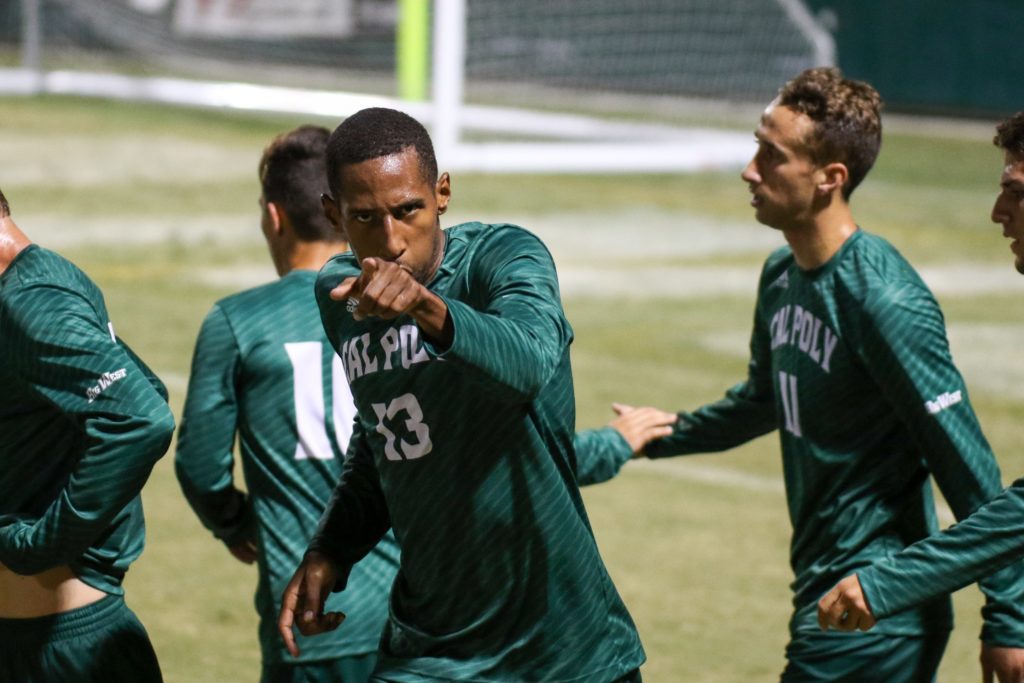 Alkebulan's career at Cal Poly has spanned three coaches. He's one of the final three players left on the roster recruited by Paul Holocher (Along with Nick Carroll and Adam Olsen).
Days into his second year on-campus, Holocher resigned. An interim coach (Phil Ruskin) picked up the slack, followed by Steve Sampson, who is in his third year at the helm.
Kaba's size, speed, and strength have always been tantalizing to watch, but a clumsy first touch and sometimes overboard emotional energy seem to have gone the way of his dreadlocks for this, his senior season. I would liken him to former Cal Poly basketball player Joel Awich — a player who has always had some NICE physical tools who has progressed into a guy who can go against anyone through years of hard work.
Mustangs start with three points
After Kaba's goal, the Mustangs gave up a silly goal off an errant pass by defender Nick Carroll. With under ten minutes to play in regulation, it looked like the game might be stalling into overtime. In the 81st minute, Adam Olsen found Kaba in the box. After a calm touch or two, Kaba slipped and, with a loose ball in the six-yard box, junior midfielder Jose Rivera (Irvine Valley College) was there to clean up the mess, scoring his second goal as a Mustang.
Less than seven minutes later, senior Tyler Savitsky (Harvard) capitalized on the Highlanders' scrambling for an equalizer, slotting a pass from Diego Alonso into the net to pad the lead.
Cal Poly plays at home against Cal State Fullerton on Saturday evening in Alex J. Spanos Stadium.
Photos by Owen Main. To view more photos, click here. If you just want to contribute to the cause Venmo @Owen-Main or paypal owen@fansmanship.com.