2012 Tailgate Series – Part 1
Updated: September 27, 2012
Part one of my tailgate reviews this football season focuses on the parking lot at War Memorial Stadium in Laramie, Wyoming.
Laramie is about 45 minutes due West of Cheyenne and the University of Wyoming is the only school in Wyoming and according to our first interviewee, the state of Wyoming has a lot of pride in its Cowboys. As I posted earlier, both the colors and branding of the 'Pokes fits-in amazingly well in the rugged Wyoming landscape.
While Alan had the best truck/trailer combination, other guys had pretty awesome set-ups too. After the band, ponies, cheerleaders, and team made the walk from the hotel over to the stadium, I got to talking with another tailgater. This guy had helped develop an organization to encourage more tailgating at the games. If I wasn't headed to a working press box directly afterwards, I might have taken him up on his offer for a strong adult beverage.
The second tailgater was I think one of the organizers of the major tailgates in front of War Memorial. He was the head honcho, the Captain Cowboy, the main dude. I told him I'd maybe come back for the drink and proceeded to try to find the tailgate I was actually invited to.
I'm not going to claim to be the best interviewer. I had a Cal Poly hat and a Wyoming T-Shirt on. It might have been confusing to some people. Let me give the reasons for wearing both.
1) I'm a Cal Poly Alum
2) Wyoming's branding is awesome — especially when it comes to Pistol Pete. The colors are also pretty cool I think.
3) I have family from Wyoming and had a Cowboys T-Shirt growing up from my mom's uncle. I'm allowed to want another one.
4) I married into the extended Wyoming family. My wife's cousin married a former Wyoming quarterback. They are wonderful people who live in Cheyenne and with whom I stayed while I was in Wyoming. Thanks again guys!
… so get off my back for wearing some Wyoming gear, would ya!?
Back to the tailgating. The final trailer was probably the nicest. It was subtly classy and had so many compartments for cooking several different meats in unique ways. On this day, the ribs were falling off the bone. If I hadn't just eaten lunch, I might have eaten more than I did at the tailgate.
Conrad and family were amazing hosts. You have to respect guys who go tailgate in the sideways snow days in a place like Laramie. Their fansmanship shines through, and for that we salute them.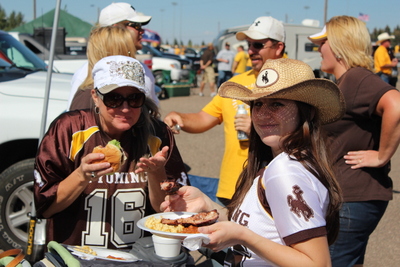 After losing to Cal Poly, Wyoming won last week and the Cowboys are now 1-3. I definitely wish them well. The state and the fans there definitely deserve a winner.